Purchasing heavy equipment is an immense investment, so it's crucial that you maximize asset lifespan. Scheduling and carrying out routine preventive maintenance is the best way to ensure you're getting the most out of your investments.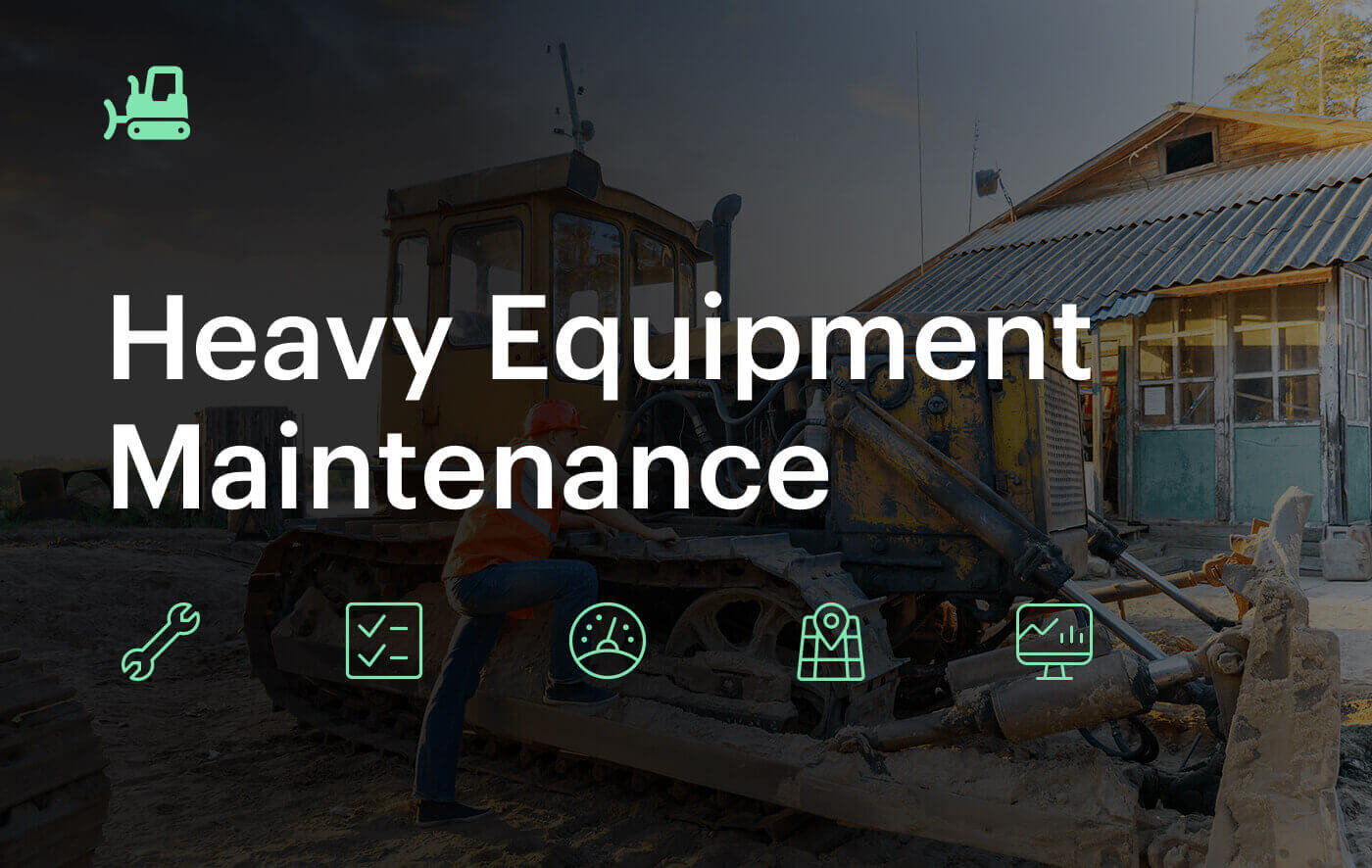 What to include when creating a Heavy Equipment Maintenance Schedule
Whether you own or lease your heavy equipment, taking a proactive stance on maintenance ensures you're getting the maximum return on your investment (ROI) and minimizing downtime to keep your team on schedule.
Developing a strong preventive maintenance (PM) schedule based on asset usage gives you visibility into any potential issues regarding your equipment, allowing you to take action immediately to avoid future breakdowns.
Additional ways to improve your heavy equipment maintenance strategy is through leveraging data from other aspects of your fleet, like DVIR results and telematics data. Every bit of data you can garner from your fleet will help you improve your fleet operations, maximize asset lifespan and reduce the risk of injury.
Is your heavy equipment fleet running efficiently? Below, we've outlined the procedures for a heavy equipment preventive maintenance program to help improve your fleet's uptime and help compound your investments.
Create a Preventive Maintenance Schedule
A proactive heavy equipment maintenance schedule leans heavily on preventive maintenance (PM). Often, simple services tasks like oil changes or coolant fill-ups are missed for lengthy periods. While these items may seem small, they can have a large negative impact on your equipment.
Creating a comprehensive PM schedule allows you to keep your finger on the pulse of your assets. Heavy equipment PM scheduling may sound daunting, but developing a schedule can be as simple as following mileage or service hour intervals. This process can be further automated through fleet management software.
To stay on top of preventive maintenance, send notifications directly to your inbox for regular service items using your equipment management software. Notifications help you keep tabs on the health of your assets to maximize uptime on the jobsite.
When handling your preventive maintenance in-house, consider creating work orders for each task. Work orders help you plan and carry out service tasks on time and automatically update inventory levels on parts used. See how a landscape management company is able to streamline work orders through Fleetio.
Streamlining work orders through fleet maintenance software allows you to communicate with your maintenance team as soon as issues arise, helping them get to work quickly. Being in seamless communication with your team helps you track repairs easily and helps get assets back to work.
Leverage eDVIR Results to Expedite Repairs
Performing a proper heavy equipment inspection has a wealth of benefits. Not only will it keep you compliant; they also help your operators communicate any asset issues with you.
Heavy equipment is often left in the hands of Mother Nature. Equipment is typically uncovered on a jobsite for weeks or months at a time, so inspections are crucial to determine any weather damage to your assets.
Daily Vehicle Inspection Reports (DVIR) help many fleet managers stay compliant and aware of issues, but due to paper-based systems, information from the jobsite isn't received quickly.
Electronic DVIR (eDVIR) gives operators a fast and easy way to complete inspections and communicate issues to their managers. eDVIR employs the use of clicks and swipes in a mobile app to complete inspections.
Unlike paper inspections, eDVIR results are uploaded instantly, allowing you to receive inspections results in real-time and stay ahead of issues. eDVIR is also customizable, so you can create different types of inspections for all of your unique assets.
Equipment management software also gives you the ability to customize notifications, so you are alerted when certain inspection items fail. Managers are promptly alerted to issues and maintenance begins quickly, ultimately leading to reduced downtime and risks on the jobsite.
When developing a heavy equipment maintenance schedule, routine inspections ensure you are aware of any potential issues and get assets in the shop quickly for repairs.
Track Meter and Hour Readings with Telematics
Knowing what's going on with the mechanics of your heavy equipment can give you a better understanding of the health of your assets. A telematics device provides visibility into your equipment by automatically capturing data from meters.
Without telematics, operators must manually record odometer readings, increasing downtime and continuing the communication bottleneck between operator and manager. Worse still, critical issues within your equipment aren't identified immediately, which could cause unplanned costs.
Integrating a telematics device into your fleet management software provides you with real-time data including odometer readings and diagnostic trouble codes (DTC). This extra layer of data can help you better plan future maintenance and alert you to immediate issues.
Determine Total Cost of Ownership
Your yellow iron is expensive, so ROI is key to the success of your fleet. To get the best understanding of your fleet operations, it is paramount to determine your fleet's true total cost of ownership (TCO).
Controlling fleet expenses is a never-ending task for managers and administrators. Sorting through multiple spreadsheets of data to calculate TCO is nearly impossible and can result in flawed numbers.
Fleet management software takes the guesswork and grueling data analysis out of the process by automatically calculating your fleet's TCO.
Because your heavy equipment is remarkably expensive, it's vital to manage costs, risks and depreciation to maximize asset lifespan and overall profitability. By having your fleet's total cost of ownership immediately accessible, you can make informed, data-driven decisions about your fleet.
---
When it comes to equipment management, let Fleetio do the heavy lifting! Start your free trial or request a demo today.