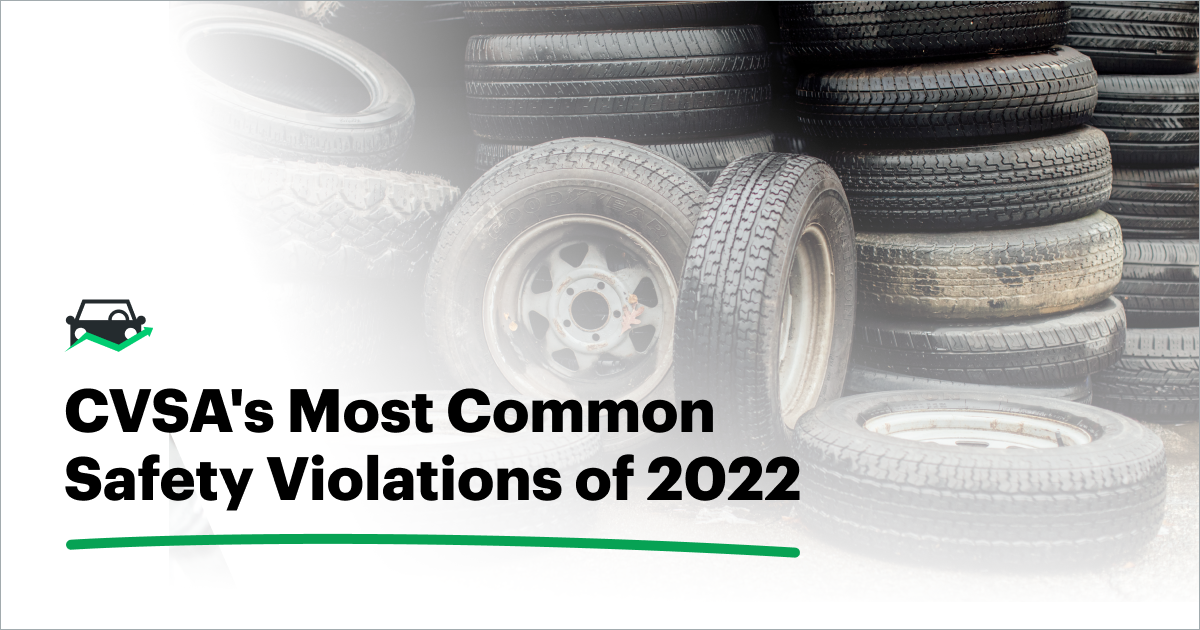 Every year, the Commercial Vehicle Safety Alliance (CVSA) puts fleets to the test through an enforcement initiative called the "International Roadcheck." Over three days across the US, Canada and Mexico, CVSA-certified inspectors examine tens of thousands of commercial vehicles.
When they encounter a vehicle with a mechanical defect that violates CVSA's North American Standard Out-of-Service Criteria, that vehicle is prohibited from operation for a specified time period or until the failed inspection item is remedied. By conducting these highly publicized mass inspection events, CVSA aims to remind fleets of their vehicle maintenance obligations and make roads safer for commercial vehicle drivers across the continent.
Recently, CVSA published the results of the 2022 International Roadcheck, providing the public with a breakdown of the most common reasons vehicles were taken off the road during the event. Let's go over three of the most pervasive compliance infractions affecting commercial vehicles today as well as what fleets can do to prevent them.
1. Faulty brake systems
More frequently discovered than all other violations, defective brake systems sidelined more than 4,500 commercial vehicles at this year's International Roadcheck. And while you're sure to find brake system examinations on virtually every pre- and post-trip inspection checklist, many fleets fail to scrutinize their brake systems to the appropriate degree. Since one flawed chamber, clamp, pushrod, slack adjuster, shoe or drum is all it takes to render a brake system unreliable, checking only a portion of a brake systems' components is simply insufficient.
Instead, fleets should be comprehensive in their brake system inspections, examining certain components daily, others weekly, and remaining parts monthly (depending on their respective durability). Vehicle inspection apps can make staying on top of these different inspection tasks as simple as following the right checklist for the occasion. For example, these apps can direct users to be on the lookout for loose air chambers everyday, inspect rotors for cracks once a week, and check for air system moisture once a month. By ensuring no brake system component goes overlooked, vehicle inspection apps significantly reduce the likelihood of a vehicle being taken off the road due to the leading compliance infraction.
2. Damaged tires
While not as ubiquitous as flawed brake systems, worn-out tires were the reason more than 3,300 vehicles were halted at the 2022 International Roadcheck. From exposed fabric and belt material to insufficient tread depth, tires can violate CVSA-determined conventions in a litany of ways. And because tires are so vital to driver safety, a single tire having certain defects can instantly designate a vehicle to be out-of-service. Only roadside service calls can get vehicles back on the road once stopped as out-of-service — vehicles aren't even allowed to go to the nearest truck stop to get their tires replaced or repaired. Because of this, fleets are both incentivized to take tire compliance seriously from both a safety and cost perspective.
Once again, as part of a larger fleet safety program, vehicle inspection apps can help address this all too common oversight. Using their smart device's onboard camera, drivers can take pictures of any tire defects when conducting an inspection. This serves to create a record in the associated vehicle's inspection history referenceable at any time.
3. Defective lights
Finally, according to CVSA, more than 2,200 vehicles were placed out-of-service for having defective lights during this year's International Roadcheck. Due to their nature, lights are among the easiest infractions to prevent and one of the most apparent flaws for inspectors to find. Whether being inspected by a driver or an enforcement official, a light can be determined to be in working order or not instantly through little effort. Because of this, a defective light is often the initial spark that leads to a more thorough inspection of the rest of a vehicle.
To identify malfunctioning vehicle lights as quickly and consistently as possible, fleets should instruct their drivers to look carefully when examining lights during the day. It's not uncommon for drivers in a rush to mistake a light for being on when it isn't actually operational (and is merely catching sunlight).
Improve safety and compliance with driver inspections
By leveraging vehicle inspection apps, fleets can elevate their pre- and post-trip inspections, resulting in greater driver safety and DVIR compliance. What's more, these apps also provide a wealth of actionable data fleet managers can use to inform their decision making and improved visibility to assist with their day-to-day fleet management.
---
Interested in what our mobile inspection app can do for your organization? Reach out for a demo or start a free trial today.