Over-the-road (OTR) trucking plays a major role in a nation's economic infrastructure by ensuring imported and exported goods get to where they need to go safely and on time. Disruptions in OTR trucking can lead to bare grocery store shelves and further exacerbate supply shortages, but with an aging workforce and less interest in trucking as a career, finding drivers can be challenging.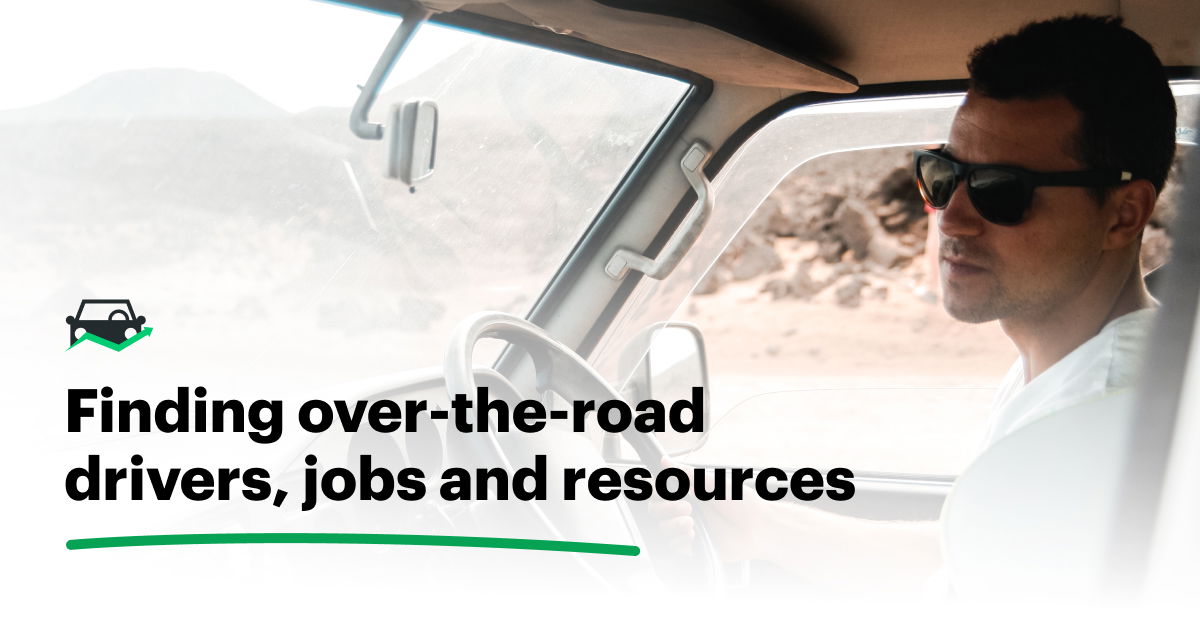 What is OTR Trucking?
Over-the-road trucking, often called long-haul trucking, describes the act of transporting products and goods long distance — typically from one coast to another and sometimes even crossing national borders. Over-the-road truck drivers can spend weeks at a time on the road, either driving solo or in teams, and are either self-employed (owner-operators), contractors or employed through larger companies/carriers.
OTR vs Regional and Local
The biggest differences between OTR, regional and local trucking are miles driven and area covered. OTR drivers typically drive upward of 1,200 miles per load and cover a greater distance than regional and local drivers.
OTR
OTR trucking provides numerous benefits, including increased job security. The OTR trucking industry is facing an ongoing driver shortage, largely due to the amount of time spent away from home, an aging workforce and new and forthcoming industry regulations. Because drivers are in high demand, the pay and benefits available are competitive.
Pros:
OTR drivers typically earn the highest pay, as pay is doled out on a per-mile basis
OTR drivers have more scheduling flexibility and less micromanaging — even when being employed by a company versus being an owner-operator
With a wider area of travel, OTR drivers have more opportunities to experience various cities across the country
Cons:
OTR drivers are away from home more often than not
OTR drivers experience a more sedentary working environment which can negatively impact health
OTR drivers can experience productivity (and earnings) delays via road, traffic and weather conditions, as well as detention (i.e. delays during load pick up and drop off)
Regional
Regional trucking covers a much smaller area than OTR trucking, with routes typically running through four or five states. This smaller area allows drivers to better familiarize themselves with routes. This is particularly helpful when roadblocks occur due to accidents or weather, as the driver will know which backroads they can take to avoid being stuck in traffic or delayed because of road closures.
Pros:
Whether on the weekend or during the week, regional drivers typically enjoy several off days per week
Regional drivers have a smaller travel area, keeping them closer to home and in more familiar territory
Depending on the company and/or loads available, regional drivers have the opportunity to pick up more loads, increasing both their miles and pay
Cons:
Regional drivers often haul back-to-back loads resulting in stricter, but not always consistent, scheduling
On average, regional drivers stay within a smaller mile radius than OTR drivers, which can translate to less pay
New drivers and non-owner-operators may be subject to slip seating (sharing a truck with multiple drivers) if the company doesn't have enough trucks, making it harder to keep the cab clean with all the settings to your preference
Local
Local trucking is usually confined to a radius of 100-200 miles and dedicated to a single state. On average, local drivers spend about eight to 10 hours per day on the job. Although the area covered is small, local drivers can experience more stress and fatigue as they have to navigate smaller roads and tighter spaces.
Pros:
Local drivers get to be home at the end of the day and on weekends (depending on the route and/or company)
Driving local is less sedentary than both regional and OTR, meaning local drivers are more likely to experience less job-related health issues
Local drivers often have a more consistent schedule, providing an opportunity to build good working relationships with customers and allowing for better familiarity with their delivery area, which can reduce stress
Cons:
Local drivers are responsible for loading and unloading at pick up and drop off destinations
Due to less miles traveled, local drivers typically receive the least amount of pay
Routes are usually off-highway, with more stops per route. The stop-and-go nature of local delivery can lead to fatigue
How to Find OTR Drivers
Because OTR drivers are in high demand and short supply, it can be challenging to bring in new talent. There are several ways to improve your company's appeal during the recruiting process, including offering competitive benefits and compensation, as well as providing such incentives as bonuses. The more attractive the job is to drivers, the wider the pool of talent you'll be able to choose from. There are several recruiting resources catering specifically to the trucking industry, including:
How to Find Jobs as an OTR Driver
OTR drivers practically have their pick of the litter when it comes to available jobs. While drivers can hop on general recruiting sites, such as LinkedIn, Indeed and ZipRecruiter, there are job boards geared specifically to the trucking industry and that cater to company employment, contractors and owner-operators. These include:
Track and Manage Your Drivers Anywhere with Fleetio
Managing cross-country fleets can be difficult and time consuming. With Fleetio, you can manage your OTR fleet anytime, from anywhere. The trucking industry forecast highlights a rollout of new technologies OTR fleet managers can use to track both the health and safety of fleet drivers and assets, including vehicle assignments, inspections, service histories and more.
Fleetio's integration and public application programming interface (API) features make collecting data from multiple sources easy by consolidating it on one platform with a customizable dashboard. Collected data is automatically aggregated into configurable reports for easy fleet cost analysis and a complete view into the goings on of assets, drivers, in-house service and even parts inventories.
---
Find out how Fleetio can help you manage your OTR truck fleet from anywhere. Start your free trial or schedule a personalized demo today!
FAQs
What does OTR mean in trucking?
Over-the-road (OTR) trucking, more commonly known as long-haul trucking, describes the act of transporting products and goods long distance — typically from one coast to another and sometimes even across national borders. OTR drivers are either self employed (owner-operators), contractors or employed through larger companies.
What is OTR vs. LTL?
Over-the-road trucking is the act of transporting a load of goods or products across long distances. Less-than-load (LTL) trucking describes the act of picking up multiple small loads (considered less than a truckload) and transporting them to multiple destinations.