As essential employees, road construction workers create the infrastructure to keep our society moving—literally. Maintaining road construction equipment ensures the safety of your team, fast job turnaround times and a greater return on investment (ROI) of your expensive equipment.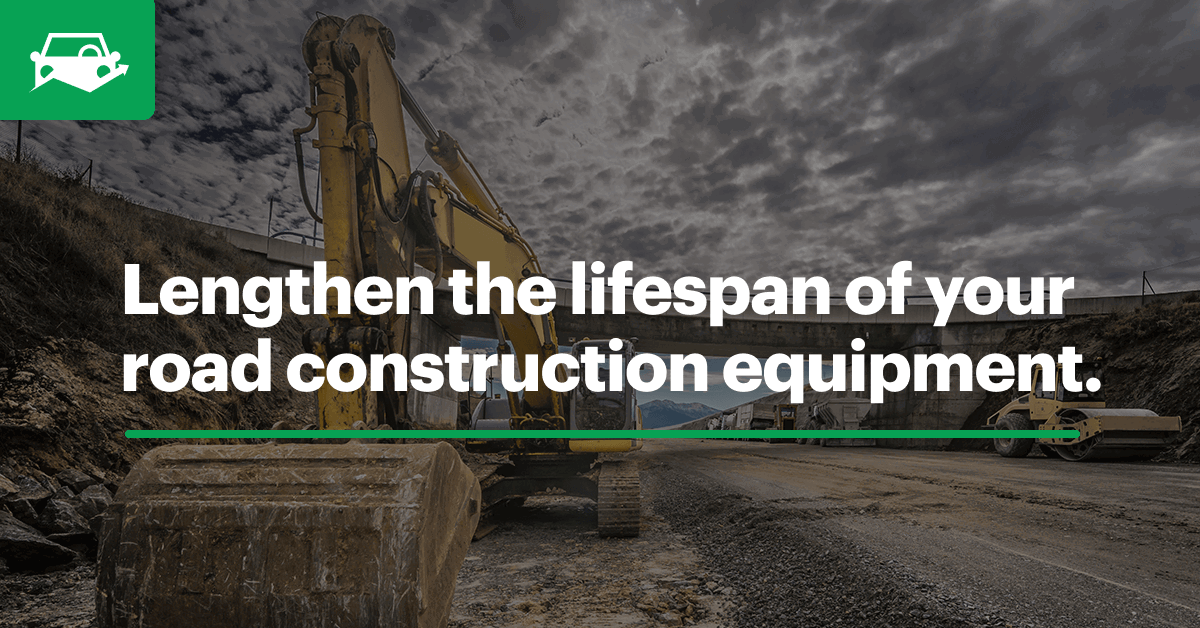 Maximizing Road Construction Equipment Uptime
One of the primary goals of maintaining road construction equipment is maximizing uptime. Completing jobs quickly and safely ensures people can get from place efficiently.
When it comes to earth-moving equipment, like excavators and pavers, proper equipment maintenance is critical. Not only are these expensive pieces of machinery, but breakdowns and unplanned repairs can often take days to complete and significantly impact your project's timetable.
Having an efficient way to manage your road construction equipment is crucial to keeping your team productive, managing assets in real time and maintaining your bottom line. Many construction fleets leverage a mobile-first software solution to track equipment maintenance, inspections and expenses in a single system.
In this post, we break down a few of the best practices you can implement in your road construction equipment maintenance plan.
Streamline Equipment Inspections
One of the biggest challenges for fleet managers is maintaining the visibility of their assets when they're spread out across job sites. Adding daily equipment inspections into your team's duties is a great way to uncover any potential problems and prevent compounding issues that can result in equipment downtime.
Because your team is often dispersed, you may not always be available on-site to retrieve paper inspection forms, causing problems to go unnoticed for days or weeks at a time. Equipment inspection apps offer a mobile solution that delivers real-time, accurate results to fleet managers.
Immediate Alerts
All of your road construction equipment must be in good condition to keep pace on the job site. By inspecting equipment each day on a mobile app, your operators can quickly and thoroughly monitor assets and communicate any issues immediately.
Having inspection failure alerts coming directly to your inbox allows you to eliminate communication gaps between field and office. Instead of waiting to see the problem for yourself, operators can include photos and comments to improve clarity and help you take action immediately by creating maintenance work orders.
Odometer and Hour Recordings
Equipment issues aren't the only aspect of mobile inspections. Most equipment maintenance is based on usage, so knowing how long your earth-movers are operating each day is the best way to stick to your preventive maintenance schedules.
Using construction fleet management software enables your operators to record odometer readings and time intervals in the mobile inspection app. Not only does this help keep tabs on asset utilization, but these recordings can also trigger maintenance reminders in the app (more on that later).
Safety
There's no denying that the road construction industry can be dangerous. Working around heavy equipment is risky business, and safety should be at the forefront of every team member's mind.
As a fleet manager, the last thing your want is for something to happen to an employee due to equipment failure. Daily inspections are the best way to monitor the health and safety of your assets. Because mobile inspection forms are configurable, you may consider tailoring your forms to include safety measures, like ensuring the security of suspended equipment or checking parking brake functionality.
Create Preventive Maintenance Schedules
Your maintenance plan shouldn't only rely on equipment inspections to uncover issues. With road construction equipment, it's important to take a proactive stance on maintenance. Having a preventive maintenance schedule based on asset usage ensures you're keeping your equipment in good condition.
Fleet management software helps you sustain your preventive maintenance program by automating service reminders based on meter and time intervals. When odometer or usage hours are updated in the app, service reminders are triggered and notifications are sent directly to your inbox.
Because your fleet is constantly at different job sites, it's important to have an idea of when you're conducting fleet maintenance ahead of time. To avoid downtime or skipping preventive maintenance schedules, you can set due-soon thresholds in your software to notify you of upcoming service to avoid any scheduling issues.
Preventive maintenance plans ensure you're getting every productive hour out of your road construction equipment and monitoring each asset as it ages. With a proactive maintenance strategy, your fleet can maximize your ROI on each asset and keep it moving as long as possible.
[![road-construction-cta](https://marketing-cdn.fleetio.com/images/blog/road-construction-cta.png)](/pricing)
Calculate Expenses to Determine Equipment Replacement Plans
Because road construction equipment is so costly, there often isn't a backup piece of equipment if a breakdown happens. Even worse, if the equipment issue is irreparable, you may not be able to confidently afford new equipment in time to meet your deadline.
Understanding your fleet's total cost of ownership (TCO) and having an equipment replacement plan in place takes the guesswork out of acquisition and replacement. Fleet management software automatically calculates TCO to help you track expenses and make confident decisions regarding acquisition and replacement.
Whether your fleet replaces equipment based on vehicle age or increasing repair costs, creating equipment replacement policies helps avoid breakdowns, unplanned downtime and surprise expenses.
Approaching vehicle replacement strategically is easy when you leverage data-driven software. Fleetio provides optimal replacement analysis to help you forecast the best time to replace equipment.
Monitoring road construction equipment with the help of software ensures you're maximizing your ROI and maintaining your bottom line by having all of the data at your fingertips regarding equipment health, asset utilization and expenses.
---
Keep your earth-movers in good condition by managing equipment maintenance with Fleetio! Start your free trial or request a demo today.