HVAC fleets are heavily relied on to provide heating, cooling and ventilation solutions at a moment's notice. A strong fleet management software helps you avoid vehicle downtime and ensures your clients are served on time.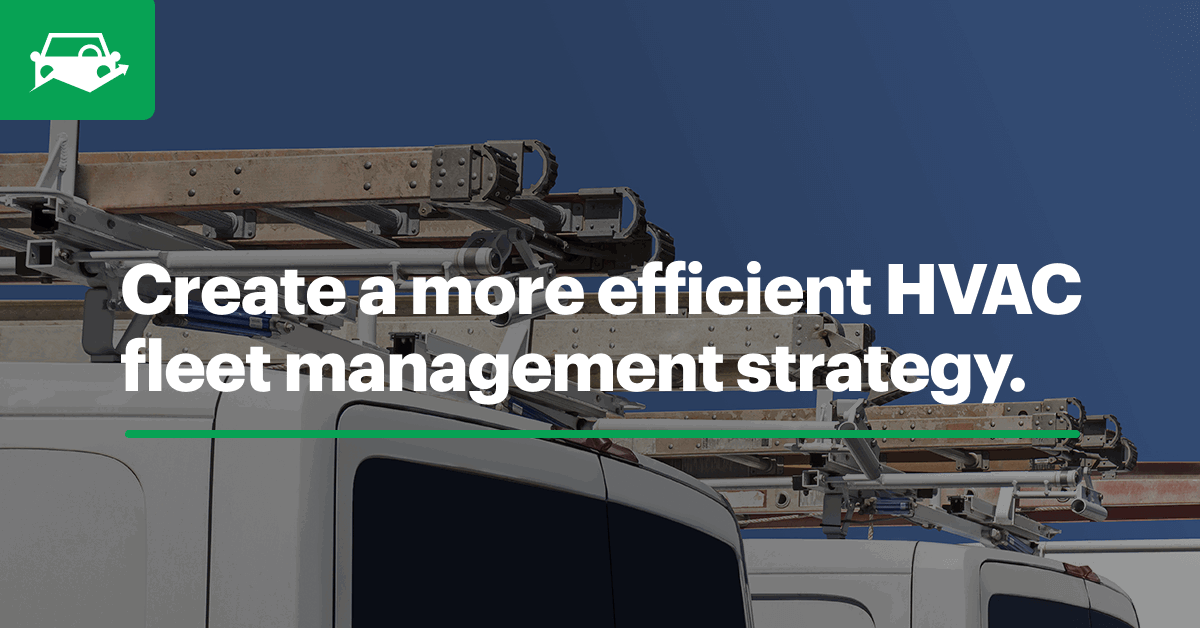 HVAC Fleet Management Best Practices
No matter what season we're in, the public depends on HVAC technicians to solve heating and cooling problems on time. Proper HVAC fleet management practices are critical for your business to avoid vehicle downtime and best serve your clients.
Because your HVAC technicians are constantly on the move, it can be difficult to track their productivity and monitor assets, especially if you're still relying on paper processes or whiteboards for scheduling fleet operations.
Managing your HVAC fleet doesn't have to make you sweat. By taking advantage of modern software, fleet managers can streamline operations to improve vehicle uptime and effectively manage fleet maintenance.
Many fleet managers have discovered that HVAC fleet management software is the best solution for tracking assets and communicating with their teams. By storing and managing all fleet data on a single platform, managers can get a comprehensive look at technician productivity, vehicle health and their fleet's total cost of ownership (TCO).
As you're determining your own HVAC fleet management strategy, consider these best practices for running a smooth operation:
1. Leverage a Mobile Vehicle Inspection App
HVAC technicians are always on the move, often to multiple locations throughout the day. Frequently monitoring asset health can often take a back seat due to busy schedules and not having a quick, easy vehicle inspection solution.
Paper-based vehicle inspection forms are time-consuming, and drivers often find them frustrating to complete. To get to a job on time, drivers may race through paper inspection forms without taking time to conduct thorough inspections.
Adding to that, since your technicians often take their vehicles home with them in busier months, you may not receive completed inspection forms on time. This can result in critical issues going undetected for weeks or months at a time, causing downtime and expensive repairs.
Instead of pencil-whipping from the driver's seat, technicians can perform fast, detailed inspections on a native mobile app. With simple clicks and swipes, your technicians can conduct inspections with ease and quickly communicate issues. Mobile vehicle inspections also provide technicians with the ability to take photos and add comments to provide further clarity in reporting.
To save even more time, completed vehicle inspections are immediately uploaded into HVAC fleet management software, alerting fleet managers to any issues and begin creating maintenance work orders.
See how Stanley Steemer saved over 83 percent of time spent on vehicle inspections.
2. Coordinate Maintenance Schedules
As busy as your HVAC fleet is, trying to find time to perform vehicle maintenance can be a challenge. Routine maintenance may fall by the wayside as the busier seasons roll in and business picks up.
To keep up with maintenance, whether preventive or urgent, HVAC fleets need an organized fleet maintenance process. Automating service reminders, closely tracking work orders and leveraging data from other areas of your fleet are some of the best ways to streamline HVAC fleet management.
Creating Service Reminders
Being proactive with preventive maintenance (PM) is one of the best ways to avoid downtime, but sustaining a strong PM schedule can be challenging for some fleets. If you're managing your fleet on handwritten calendars or spreadsheets, you may not realize your vehicles are overdue for routine maintenance.
Utilizing a software tool to schedule preventive maintenance improves your HVAC fleet management plan and ensures your vehicles get into the shop on time. Fleet managers can set service reminders based on odometer readings or OEM recommendations to standardize preventive maintenance intervals and keep organized.
Instead of manually recording odometer readings (which can be error-prone) or trying to keep up with a calendar for all of your assets, you can set due-soon thresholds to notify you in the app or by email to help you stay on top of PM tasks and avoid downtime. Fleet management software can also predict when maintenance will be due based on a vehicle's average usage. Your vehicles will never miss an oil change again!
Leveraging Mobile Work Orders
With a spread out fleet and multiple assets to manage, paper-based work orders are often inefficient. Trying to track repair progress or playing phone-tag with the shop is a poor use of time and often results in your increased downtime or unplanned expenses.
Whether you manage maintenance in-house or outsource to a third party, HVAC fleet management software streamlines the repair process with mobile vehicle work orders. You can schedule repairs, monitor progress and track expenses from anywhere (even if you're working remotely right now).
Streamlining vehicle work orders ensures an efficient HVAC fleet management system, especially if you use third-party vendors. Fleetio's Maintenance Shop Integration helps HVAC fleets manage vendors, consolidate billing and monitor repair progress.
HVAC technicians can visit one of over 40,000 in-network shops for repairs. Once a repair order is submitted, fleet managers are instantly notified and can approve or reject maintenance.
Managers can also set up auto-approvals to save even more time and get maintenance started quickly. Billing is consolidated into one monthly bill, saving you from sorting through dozens of invoices each month. More time to focus on other fleet management tasks!
3. Comprehensively Track Fleet Data on a Single Platform
Some HVAC fleets already use some form of technology or other solution to track assets and streamline operations. While powerful on their own, integrating all fleet data into a single system helps fleet managers get a comprehensive view of fleet efficiency.
Many HVAC fleets use a telematics tool for tracking technicians on the road and monitoring productivity. Pairing your GPS/telematics system with fleet management software allows you to take further advantage of your telematics data and optimize workflows across your HVAC fleet.
In addition to tracking vehicle location to ensure technician productivity, supplementing your telematics data with fleet management software automatically pulls odometer readings to trigger preventive maintenance reminders and alert you to critical issues with diagnostic trouble code (DTC) alerts.
In addition to telematics, many fleet managers leverage fuel cards in their HVAC fleet management process. While fuel cards are great for streamlining fuel purchases, connecting your fuel card system with fleet management software unlocks a wealth of information to help you better track and analyze your fleet. By aggregating both your vehicle and fuel card data in one place, you can view:
Fuel economy
Consumption trends
Cost-per-mile
Vendor locations
Number of units (gallons/liters)
Fuel grade
Fuel is one of the largest ongoing costs for HVAC fleets. Having a comprehensive view of fuel data at your fingertips is the best way to monitor each asset's fuel economy, develop ways to reduce fuel expenses and control your bottom line.
[![hvac-cta](https://marketing-cdn.fleetio.com/images/blog/hvac-cta.png)](/pricing)
4. Monitor Expenses and Calculate Your Fleet's TCO
Acquiring and maintaining your HVAC fleet isn't cheap. Whether you're a larger company or a locally-owned business, closely monitoring your fleet's expenses is the only way to control spending and maximize your return on investment (ROI).
HVAC fleet management software allows fleet managers to automatically access detailed expense reports for every aspect of their fleet. With configurable fleet reports regarding fuel spend, repair expenses, and more, fleet managers can view and share operation cost data to improve allocation and forecast your potential ROI.
Perhaps the most important financial data for your HVAC fleet is your true total cost of ownership. Getting an accurate look at this number can be difficult if you're spending time manually crunching the numbers.
Fleet management software automatically calculates your TCO to help you make informed decisions, including acquisition and vehicle replacement plans. Knowing your fleet's TCO empowers you to be confident in your HVAC fleet management strategy, as well as the future of your business.
---
Gear up for the busy seasons by streamlining your HVAC fleet with Fleetio! Start your free trial or request a demo today.