A variety of trade workers, including painters, electricians and general contractors rely on light-duty contractor trucks to haul the tools and equipment necessary for their trade. No matter what type of contractor truck fleet you manage, proper maintenance and upkeep is essential to maximizing uptime and lengthening asset lifespan.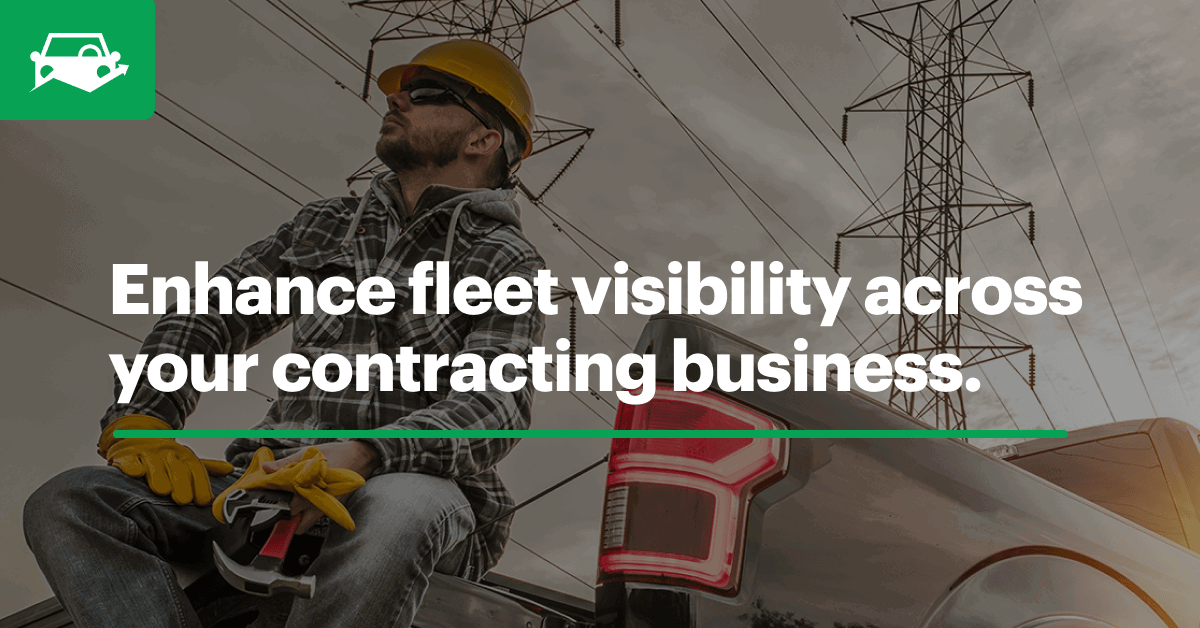 1. Streamline Contractor Truck Inspections With a Mobile App
One of the biggest challenges for any contractor truck fleet is maintaining consistent visibility into asset health. With your vehicles spread out across jobsites, it can be difficult to monitor the safety and performance of your assets. This can be even more challenging if you're using outdated management methods like paper and spreadsheets.
Having your drivers conduct routine vehicle inspections is one of the best ways to monitor asset health and identify any underlying issues. Because your contractor truck fleet is constantly on the go, leveraging a mobile vehicle inspection app is the most efficient way to receive inspection results.
A fleet management app empowers drivers to conduct fast, in-depth inspections from anywhere. Inspection results, photos, comments and odometer readings are uploaded instantly into fleet management software, alerting fleet managers to any maintenance issues, eliminating communication gaps and allowing you to easily create work orders.
Fleet management software also allows you to tailor inspection forms to your specific assets. For example, if you oversee an electrician fleet, you may include inspection items like securing tool boxes or ladder racks. Any vehicle upfits or specialized equipment on your contractor truck can be added to your inspection forms to ensure equipment is safe, secure and in good condition.
With your workers often being in close contact with clients, it is imperative to ensure your team has proper personal protection equipment (PPE) and sanitization products in their vehicles through the COVID-19 pandemic. To ensure safety guidelines are being followed, consider leveraging Fleetio's sanitization inspection form.
2. Increase Driver Accountability With Telematics Tools
With your technicians on the road throughout the day, it can be challenging to communicate with your team and monitor productivity and safety in real time. In our modern society, fleet technology is making it easier to stay in touch with your team and ensure your vehicles are operating safely.
One of the best ways to ensure your operators are arriving at their destination on time is to use a GPS or telematics tool to track your drivers. These devices can also provide insight into driving behavior to help you determine whether your team is safe on the road.
Your fleet may already be using a GPS or telematics device to track vehicle location, but tracking physical location isn't the only aspect of monitoring driver safety and accountability.
Fleet management software provides fleet managers a way to comprehensively track your contractor truck data on an easy-to-use dashboard. This enables you to not only track maintenance and expenses, but also pull real-time data from your GPS or telematics device to view all fleet data on a single platform.
Integrating your telematics tools with fleet management software provides more detailed insight into the health of your contractor trucks. In addition to receiving real-time odometer updates to trigger maintenance reminders, you can also receive diagnostic trouble codes (DTC) and engine fault alerts to be informed of larger issues.
3. Automate Maintenance Workflows With Mobile Work Orders
Light and medium-duty contractor trucks require routine maintenance to avoid downtime and costly repairs down the line. Staying on top of your fleet's preventive maintenance schedule ensures you maximize the lifespan of your assets, as well as your return on investment (ROI).
As a fleet manager, your to-do list is already a mile long. Automating maintenance workflows with fleet management software is a great solution to staying on top of repairs and streamlining communication with repair shops.
Instead of using inefficient paperwork and phone calls to track work orders, fleet managers can create, assign and monitor work orders via software or a mobile app. Not only does this save time, but you can easily track service down to the line item, monitor expenses and set up auto-approvals or rejections based on cost.
4. Track Expenses and Calculate Your Total Cost of Ownership
Fuel and maintenance are two of the largest operating expenses for any contractor truck fleet, but some fleet managers still have trouble monitoring these expenses on both a micro and macro level. Analyzing all of your fleet's expenses enables you to calculate the total cost of ownership (TCO) and determine how you can decrease overall spending on fuel, maintenance and other areas of your budget.
While manual calculations and spreadsheet formulas are often error-prone, fleet management software automatically and accurately calculates your TCO. By managing your entire fleet on a single, cloud-based platform, you can view operational costs in real time and understand how your money is being utilized. This knowledge empowers you to develop data-driven strategies to improve your bottom line.
[![contractor-cta](https://marketing-cdn.fleetio.com/images/blog/contractor-cta.png)](/pricing)
5. Develop an Optimal Vehicle Acquisition and Disposal Policy
Contractor trucks are an investment to your business, but how you choose to acquire your fleet depends heavily on multiple factors. Some fleet managers find that leasing vehicles makes the most sense for them, while others prefer to buy outright.
Choosing when to replace a contractor vehicle comes down to many factors such as cost per mile trends, depreciation and potential resale value. While some factors can be easily determined, others require hard data. Leveraging historical fleet data regarding truck lifecycles can provide much-needed insight into these decisions.
On the opposite end of the spectrum, it's just as important to develop a vehicle replacement plan. Many fleets base their policies on mileage, age or increasing repair costs.
Fleetio helps you take a strategic approach to vehicle replacement by estimating the optimal time to replace vehicles based on vehicle utilization, operating costs, salvage value and more. Leveraging real-time data allows you to make confident decisions to cycle your contractor trucks while still maximizing your ROI.
---
Discover how Fleetio's solutions can increase the efficiency of your contractor fleet! Start a free trial or request a demo today.