Landscaping services rely on a wide variety of equipment to keep lawns, gardens and other outdoor areas looking their best. To keep all of your landscaping equipment operating smoothly and ensure fleet uptime, it's important to have an effective landscaping equipment maintenance plan.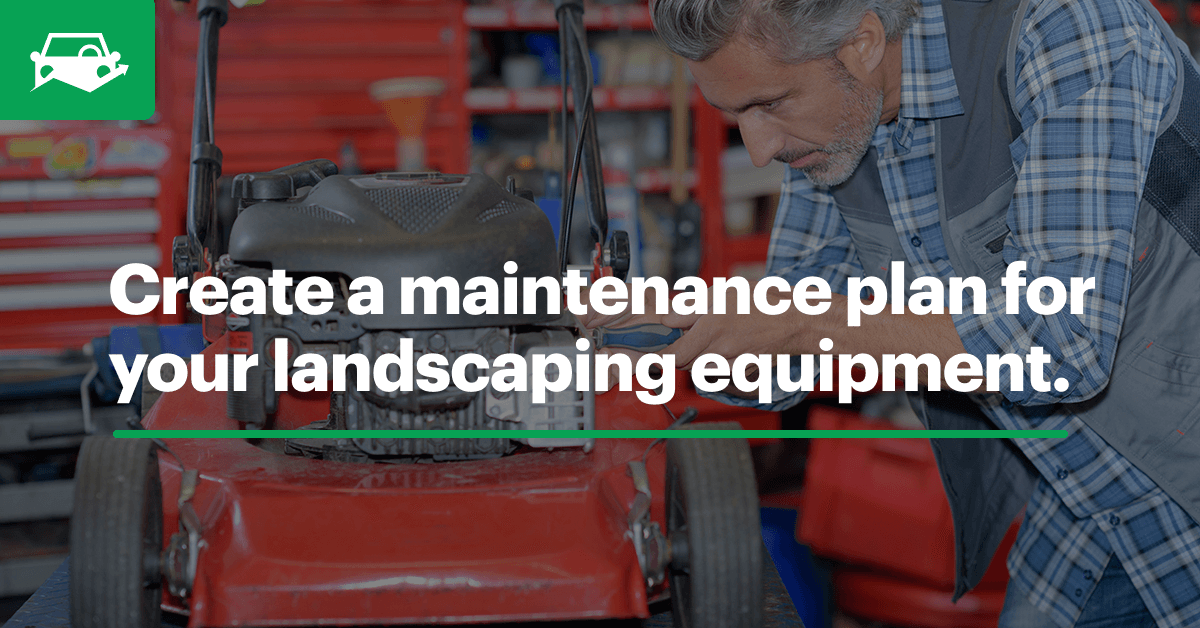 Best Practices for Landscaping Equipment Maintenance
Keeping up with landscaping equipment maintenance is critical to your company's mission. Without functioning equipment, your crew can't successfully perform their jobs.
It's important that all equipment is safe and ready to operate when your crews arrive at a job site. Having a proactive maintenance strategy allows you to ensure uptime by monitoring assets in real time and streamlining repair workflows.
Some landscaping services struggle to maintain visibility over all of their equipment. Using outdated management methods like paper and whiteboards doesn't allow you to get a complete view of landscaping equipment health. Not only does this hinder productivity, but it can also affect your return on investment (ROI).
Leveraging landscaping equipment maintenance software allows you to create maintenance workflows to maximize equipment lifespan, monitor expenses and improve uptime.
Here are five tips for proactively approaching landscaping equipment maintenance.
1. Create Service Reminders Based on Equipment Utilization
With so much landscaping equipment to keep track of, you may not know when something is broken until your crew is already on a job. Whether or not you have a back-up solution, broken equipment negatively impacts productivity and creates delays throughout your operation.
Instead of having to react fast to get a replacement tool to a job site or hastily make repairs, creating preventive maintenance schedules allows you to monitor equipment health and avoid downtime on the job.
With landscaping equipment management software, you can set configurable preventive maintenance schedules for all of your equipment and use service reminders to notify you of upcoming maintenance. This allows you to schedule maintenance during off-hours, keep your equipment in good condition and ultimately lengthen its lifespan.
Most landscaping equipment manufacturers make preventive maintenance recommendations based on usage. Landscaping equipment maintenance software automatically tracks utilization and sends notifications based on the due-soon thresholds you set. This saves you the trouble of remembering which lawnmower or leaf blower is due for repairs.
To save even more time, you can manage service reminders in bulk by creating service programs. Standardizing service reminders allow you to further maximize time and stay organized.
2. Conduct Routine Inspections to Uncover Issues
While routine preventive maintenance is a best practice for ensuring equipment health, it's equally important for your crew to monitor equipment conditions each day. Having your team perform daily equipment inspections keeps you informed of equipment status and helps uncover any underlying issues that need to be addressed.
Landscaping equipment inspection apps help your team inspect equipment quickly and thoroughly. Instead of tedious paper forms, mobile inspections can be completed with a few clicks and swipes, ensuring your team can still get to jobs on time.
Paper inspection forms are also an inefficient way to communicate problems. Instead of learning of an issue when forms are turned in days or weeks later, mobile inspection results are uploaded instantly into cloud-based software and can be accessed via computer or mobile device. When a piece of equipment fails an inspection, fleet managers receive instant notification via email to make informed decisions and quickly schedule maintenance.
Because you manage a diverse group of assets, landscaping equipment maintenance software allows you to tailor inspection forms for all of your equipment. Administrators can create different inspections for each type of equipment and create fields for items like chainsaw teeth or a mower's air filter.
3. Seamlessly Collaborate With Your Team to Resolve Issues
As a fleet manager, you rely on your team to help you identify and resolve landscaping equipment issues. Frequent communication and status updates can provide much-needed visibility and help you make informed decisions regarding maintenance and equipment replacement.
Because your team is often acting as your eyes and ears, a mobile equipment management solution is the best way to stay connected to your team, communicate tasks and receive updates. Managing all landscaping equipment maintenance on a single platform centralizes information and keeps everyone on the same page.
Your fleet may leverage a third-party vendor to conduct maintenance on certain vehicles or equipment. Streamlining communication through equipment management software helps you stop playing phone tag with shops, approve service quickly and track repair progress.
Monitoring technician productivity gives you a clear idea of when repairs will be completed and equipment will be ready to use. With collaborative management software, you can subscribe to equipment issues and receive push notifications to alert you of all updates surrounding the issue.
4. Track Maintenance Progress With Detailed Work Orders
Even with routine preventive maintenance, issues pop up occasionally. Tracking repair progress in real-time and monitoring parts and expenses is frustrating if you're still using paper and spreadsheets. These methods don't have the functionality to combine data and give you a complete view of maintenance productivity and expenses.
Landscaping equipment maintenance software helps you automate workflows and get a comprehensive view of repairs from start to finish. Managers can create and track work orders to easily communicate issues to technicians, whether they're in-house or third-party service providers.
Work orders allow you to track service down to the line item to ensure repairs are made on time and inside your budget. Communicating needs clearly through work orders keeps you and your technicians on the same page to complete repairs quickly and avoid surprise line items.
[![landscaping-equipment-cta](https://marketing-cdn.fleetio.com/images/blog/landscaping-equipment-cta.png)](/pricing)
5. Monitor Maintenance Expenses and Total Cost of Ownership
Since maintenance is one of the largest ongoing expenses, a proactive equipment maintenance strategy is the best way to lengthen the lifespan of your landscaping equipment and avoid downtime. By taking proactive measures, like creating service reminders and performing inspections, you can monitor maintenance expenses effectively and avoid costly equipment replacements.
Keying in line items into spreadsheets and sorting through repair bills is a poor use of time. In addition to delaying other tasks, manual data entry is prone to error, causing you even bigger problems in the long run.
Managing maintenance in a centralized software automates expense tracking and gives you an accurate look at operating costs and your fleet's total cost of ownership (TCO). With configurable fleet reports, you can view real-time expense reports, monitor maintenance trends across your fleet and make informed decisions to improve your bottom line.
---
Keep your landscaping business growing by managing equipment maintenance in Fleetio! Start your free trial or request a demo today.