Plumbing fleet vehicles must be properly maintained to ensure uptime, but paper processes and other outdated methods can make it difficult to comprehensively track and manage your vehicles. Leveraging a software solution to track your assets in real time increases efficiency across operations.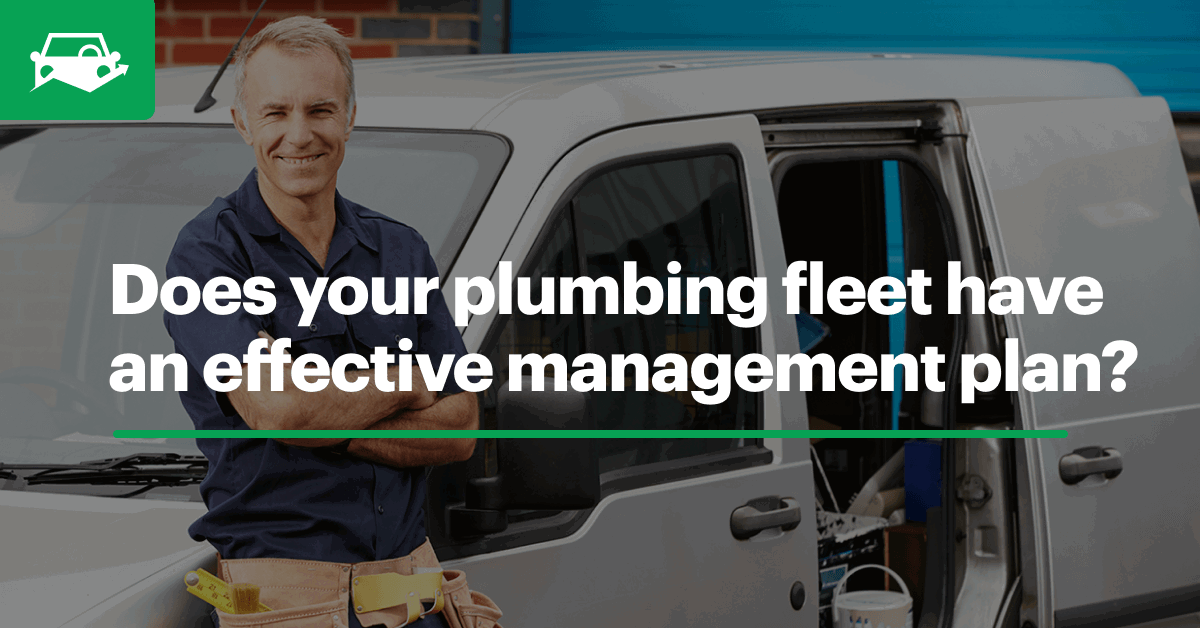 1. Comprehensively Track Your Plumbing Fleet
Creating an effective plumbing fleet management strategy begins by having a way to monitor your vehicles, drivers and equipment while they're driving to different jobs throughout the day. Without a way to view and manage assets in real time, you can't ensure productivity or communicate with your team.
Your plumbing fleet may already be using a GPS or telematics device to track vehicle location or diagnostics, but simply tracking where your vehicles are on the map doesn't provide you with a complete view of your fleet's health and productivity.
Leveraging a comprehensive fleet management software enables you to track every aspect of your fleet on a single platform. In addition to tracking maintenance, inspections and expenses more efficiently, you can pair your GPS and telematics system with the software to increase the value of your telematics data.
Supplementing your telematics data with fleet management software provides an improved view of vehicle health and automates maintenance workflows. Fleet management software automatically syncs odometer updates to trigger maintenance reminders and keeps you informed of more pressing issues like diagnostic trouble codes (DTC) and engine fault alerts.
2. Improve Driver Management and Safety Measures
Your drivers are the core of your plumbing fleet. The success of your business hinges on their productivity; therefore, an integral part of fleet management is the ability to effectively manage your drivers.
This can be challenging for plumbing fleets that haven't set up efficient methods of communication. If you're working remotely, as many fleet managers are due to the COVID-19 pandemic, you may have a difficult time keeping up with your technicians.
With a mobile fleet management app, you and your drivers can communicate vital fleet information in real time. Instead of playing phone tag or waiting all day for drivers to turn in paperwork, all fleet data can be uploaded on mobile devices to expedite fleet operations, improve driver productivity and keep you connected with your drivers no matter where you are.
3. Streamline Vehicle Inspections with a Mobile App
Keeping up with vehicle inspections is one of the best ways your plumbing fleet can prevent downtime, ensure safety and monitor asset health. Standardizing a daily vehicle inspection process is a great way for your drivers to ensure your vehicles and equipment are in good condition and alert you to any issues.
Since your plumbing fleet is constantly on the move, having a mobile inspection process enables users to complete thorough vehicle inspections anywhere in the field. Drivers can complete inspections with clicks and swipes, as well as provide photos and comments for clarity.
Completed inspections are instantly uploaded into cloud-based software, and fleet managers are alerted of any inspection failures. By streamlining the inspection process through a mobile solution, your plumbing fleet can avoid unnecessary downtime.
See how Stanley Steemer leveraged Fleetio to save over 83 percent of time spent on inspections.
Leveraging a mobile inspection app also allows fleet managers to tailor inspection forms to their vehicles. Plumbing fleets can add specific equipment and inventory to their forms to ensure all necessary equipment is secure. Consider adding items like:
Wrench mounts
Roof rack
Toolboxes
Pipe racks
Safety items
Storage cabinets
During these uncertain times when health and safety are paramount, you may also consider having your drivers complete a sanitization inspection form. With your team constantly in and out of client houses and buildings, it is important to ensure your team has proper PPE and sanitization products in their vehicles.
[![plumbing-fleet-cta](https://marketing-cdn.fleetio.com/images/blog/plumbing-cta.png)](/pricing)
4. Automate Maintenance Workflows
Managing your plumbing fleet's maintenance process can be difficult if you're still using paper or outdated forms of technology. Without a way to track repair progress and monitor all maintenance in real-time, you have no way of ensuring tasks are completed promptly.
Utilizing a modern software tool to manage plumbing fleet maintenance allows you to seamlessly track maintenance and effectively communicate with technicians. Fleet managers can automate service reminders, create and manage work orders and easily communicate with service providers to get vehicles in and out of the shop quickly.
Assigning and tracking mobile work orders is a great way to monitor maintenance progress and ensure your entire team is on the same page. Tracking maintenance tasks down to the line item allows you to get a clear understanding of where your technicians are in the maintenance process while also providing insight into repair costs. All service history is stored electronically, allowing you to view historical data and better understand the health of your plumbing fleet.
5. Calculate Total Cost of Ownership
Understanding your plumbing fleet's total cost of ownership (TCO) can seem impossible if you have to dig through spreadsheets and crunch numbers. Manual calculations can be inaccurate and negatively impact your bottom line.
Fleet management software automatically calculates your fleet's TCO based on a composite of your fleet data. With an accurate look at your fleet's operating expenses, you can make actionable decisions to positively impact your plumbing fleet's future.
While this helps you trim the fat in your operating budget and better allocate funds, this having a way to track all fleet data on a single platform enables you to make better purchasing decisions when it's time to replace your vehicles.
---
Flush your fleet's inefficiencies down the drain! Start your free trial of Fleetio or request a demo today to improve your fleet management plan.