Keeping track of vehicle renewals and registrations for dozens or hundreds of vehicles can be a constant headache for fleet managers. Automating fleet registration reminders ensures your vehicles maintain compliance and enables you to focus on more important tasks.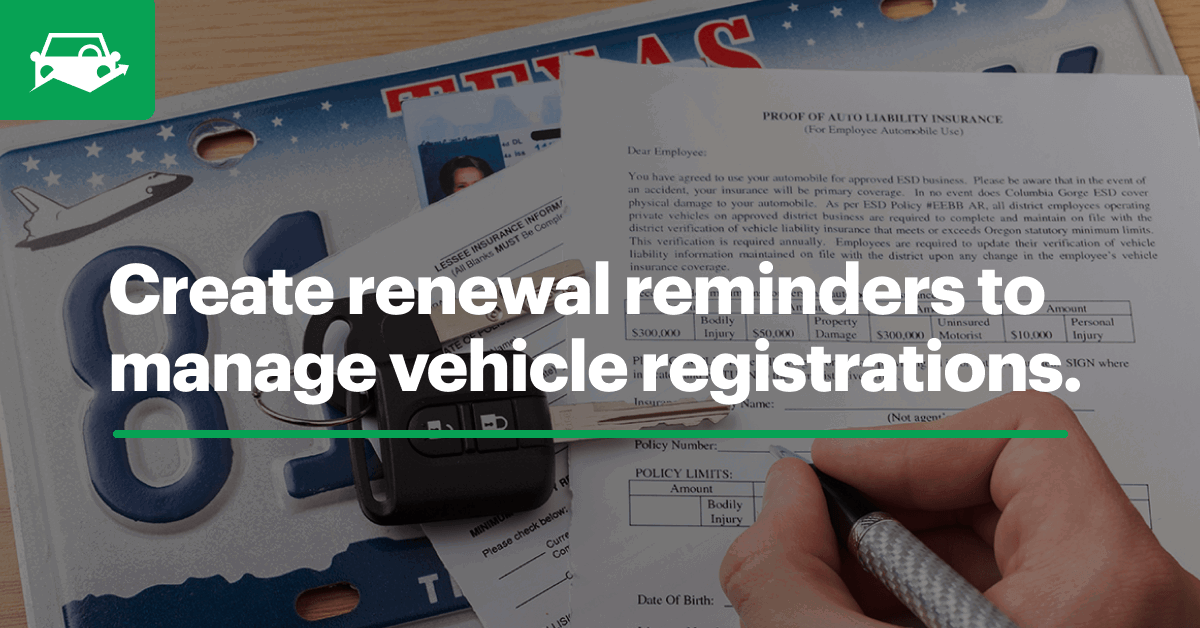 Managing Vehicle Renewals and Fleet Registrations
No matter the size of your fleet, keeping up with vehicle renewals and fleet registrations manually can be a hassle. Juggling vehicle registration renewals and annual inspections with all of your other tasks not only cuts into your already busy schedule but falling behind on renewals can result in costly fees.
Every state's Department of Motor Vehicles (DMV) requires some form of vehicle registration that must be renewed on an annual basis to maintain compliance. Expiration can often result in fines up to $500. While this may seem doable, remember that this is per vehicle. Fines can rack up quickly and eat into your fleet's profits.
To avoid penalties and maintain compliance for all of your vehicles, consider using a fleet management software that automates vehicle renewal reminders. Not only does this save you the headache of tracking when renewals are due, but it also ensures your vehicles are in good condition before annual inspections.
Keeping Track of Fleet Vehicle Renewals
In addition to staying DMV compliant with vehicle registration, your fleet must also keep vehicle renewal dates for other common items such as driver's licenses and insurance. While licenses are often renewed anywhere from four to eight years depending on classification, insurance is renewed monthly, semi-annually or annually.
Having so many dates to keep track of for each vehicle and driver can drive you crazy if you're working off of whiteboards, paper calendars or spreadsheets. Not only are you constantly trying to determine vehicle renewal dates, but you also have to carry them out while still managing daily tasks.
Instead of trying to track everything manually, storing all of your fleet's data in fleet management software allows you to manage detailed records and create reminders for recurring things like vehicle renewals and driver's licenses to keep your fleet road-ready.
Fleet management software keeps all information stored in an organized, cloud-based system, eliminating the need for bulky filing cabinets and unorganized folders. Fleet managers can decode Vehicle Identification Numbers (VIN) to track individual vehicles and link documents and registration renewal information to each vehicle.
Managers can also store driver information like certifications, licenses and other records to manage all data in one place. Reminders can be added to both vehicles and contacts to ensure you never miss a fleet registration or license renewal.
Automating Inspection and Service Reminders
Some states require annual vehicle inspections for fleets to ensure vehicles meet operating standards. While these inspections are simple, not completing them on time can result in fines.
With fleet management software, drivers are reminded to complete inspections in a mobile app. By streamlining inspections with a mobile process, all inspection data is instantly uploaded for fleet managers to view. Inspection data is easily accessible via computer or app, making it easy for drivers to prove regulatory compliance during a Department of Transportation (DOT) or Commercial Vehicle Safety Alliance (CVSA) roadcheck.
Fleet managers can leverage software to automate inspection reminders and take measures to ensure all vehicles will pass with flying colors. Not only can you create reminders to schedule your state inspection ahead of time, but it also provides an opportunity to schedule service prior to inspections.
Proactively inspecting your vehicles and scheduling preventive maintenance before a DMV inspection ensures you identify and repair any issues before annual inspections. You can configure all reminders, inspections and service tasks in fleet management software, guaranteeing a smooth process.
Using software to manage vehicle renewals allows you to configure reminders for each vehicle or create bulk reminders to save you even more time. Creating configurable Service Programs allows you to standardize service reminders for similar assets, keeping your fleet organized while eliminating hours of data entry.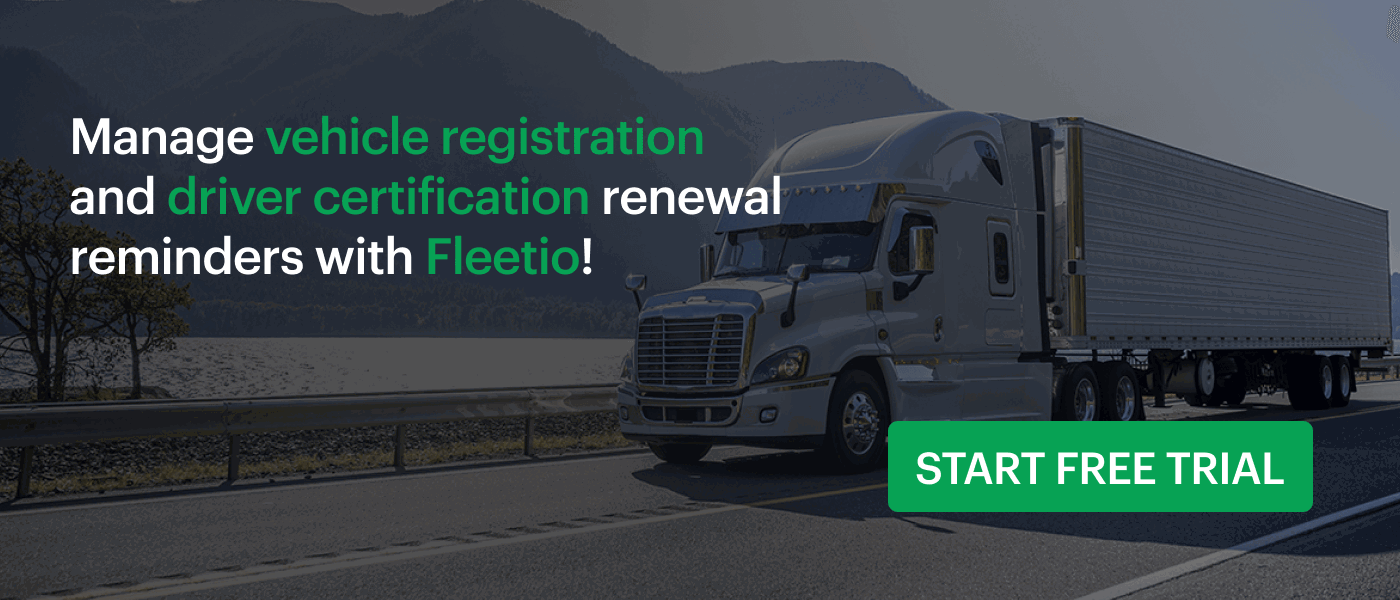 Leveraging Software to Maintain Compliance
As a fleet manager, your top priority is the safety of your fleet. While keeping track of vehicle renewals, fleet registrations and compliance information for different federal and state authorities may sound tedious, these standards are designed to ensure the safety of your assets, your drivers and the public at large.
Maintaining compliance doesn't have to be cumbersome. By implementing an efficient fleet management process, you can cultivate standards across your fleet to help guarantee your fleet is safe and compliant. See how a building products distributor relies on Fleetio to maintain DOT compliance.
Whether your fleet must comply with Federal Motor Carrier Safety Administration (FMCSA) regulations or your fleet only follows state DMV standards, it's important to maintain an organized system of record for all fleet documents and data. Using a cloud-based software allows you and your team to access necessary records on the go to easily prove compliance.
Storing documents and information in a mobile-first software and setting vehicle renewal reminders for each of your assets ensures all fleet registration renewals, inspections and necessary service is completed on time. Your fleet can avoid penalties and violations on the road to avoid downtime, safeguard profits and ensure safety.
---
Keep your records up-to-date by tracking renewal reminders in Fleetio! Start your free trial or request a demo today.