When it comes to activities as vital to fleet health as preventive maintenance, it's best to plan ahead. Preventive maintenance schedules help fleets organize their service resources and keep their vehicles in top condition.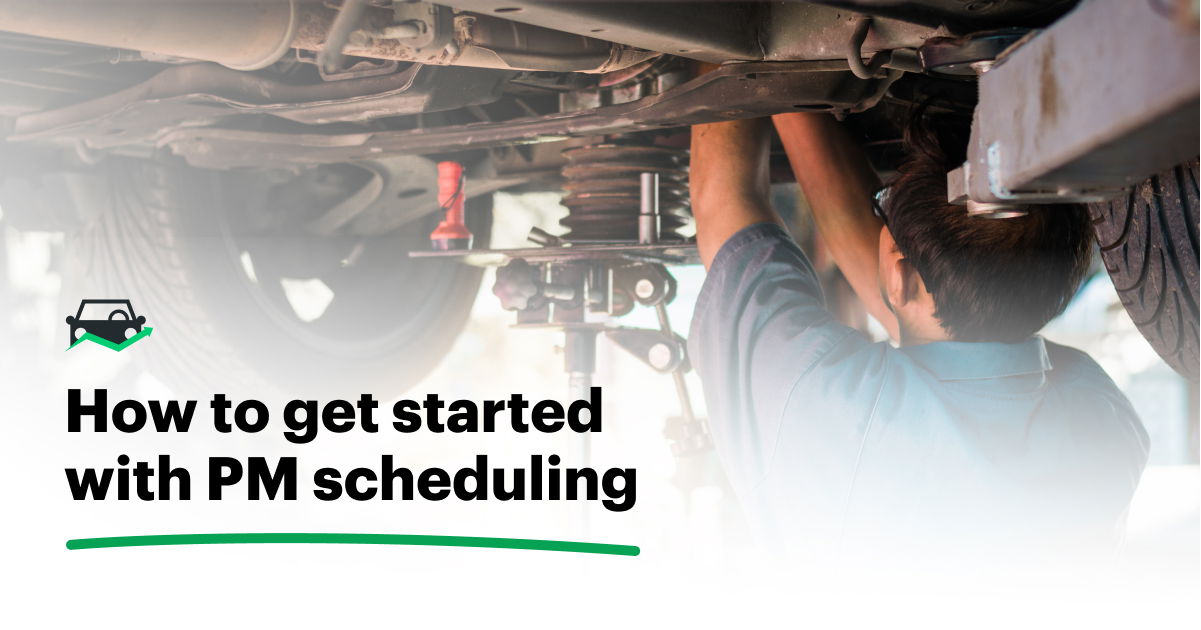 What is a preventive maintenance schedule?
In a nutshell, a preventive maintenance schedule (or "PM schedule") is a plan of procedure that codifies when routine maintenance tasks are to be done and who is to perform them. Fleets create PM schedules to better organize their maintenance efforts and ensure that their vehicles receive the service work they need to stay in tip top shape. Depending on the resources available to them, maintenance managers create and update PM schedules using spreadsheets, specialized software or paper documents.
Benefits of scheduling preventive maintenance
While it's theoretically possible for very small fleets to stay on top of maintenance tasks without much planning, that on-the-fly approach quickly becomes unviable as fleets grow. By investing just a small amount of their time to developing and updating PM schedules, fleets benefit in multiple ways.
Benefits of scheduling preventive maintenance include:
Clearer communication - With PM schedules, technicians are always on the same page as managers regarding deadlines and assignments. Fewer miscommunications means service tasks are executed more consistently, which, in turn, results in fewer vehicle breakdowns.
Greater visibility - By simply reviewing their PM schedules, maintenance managers can quickly gauge how their technicians are performing on an individual basis and how effectively their maintenance backlog is being addressed.
Easy adjustability - If maintenance managers ever feel like their organization's service efforts are either insufficient or excessive, PM schedules make it easy for them to make small adjustments and have those changes immediately put into practice.
Preventive maintenance programs vs. schedules
While it's not uncommon for the terms "preventive maintenance program" and "preventive maintenance schedule" to be used interchangeably, they actually describe two separate (albeit related) matters.
A preventive maintenance program (or "PM program") is a plan meant to align an organization's high-level goals with the goals of its maintenance team. Usually formulated by fleet managers and similar roles, PM programs center around establishing what PM tasks need to be done and what to include in PM inspections. Unlike PM schedules that usually resemble a spreadsheet or table, PM plans are most often expressed as word documents.
Conversely, PM schedules focus around time (i.e. task deadlines) and technicians (i.e. task assignments). As previously stated, the primary purpose of PM schedules is to provide a framework that better ensures that service work is executed consistently and on-time.
How to create your preventive maintenance schedules
Here are the five steps we advise fleets follow to create effective PM schedules:
Step 1: Evaluate and catalog your inventory
First things first, fleets should compile a list of every asset they own that will require regular maintenance. Doing so will give maintenance managers a clear understanding of how much effort will be required to effectively upkeep their fleet, which will ultimately make balancing technician workloads more manageable. When creating this list of assets, maintenance managers should take the time to include as much information about every asset as possible. Having important details like make, model and service history easily accessible will prove useful moving forward.
Step 2: Categorize assets by priority
In terms of both technicians and the tools and equipment they use, fleets have limited maintenance resources. This makes servicing every asset requiring maintenance at the same time impossible. So, in order to get the most out of their maintenance team's efforts, fleets need to prioritize upkeep of mission-critical assets over less vital ones. To facilitate this, fleets should divide their assets into groups based on how integral they are to the organization's operations, their probability of breaking down with age and how rigorous it is to service them. This process does require some serious thought from maintenance managers, but is well worth the effort as it ensures technicians make optimal use of their time when assigned to multiple maintenance tasks.
Step 3: Determine optimal PM cadences
This next step is a bit of a crossroads. There are four major approaches to determining PM intervals and none of them can be definitively labeled "the right answer" for fleets in general. On top of that, identifying optimal meter and time intervals (e.g. 3,000 miles vs. 5,000 miles or 4 months vs. 6 months) can be tricky in and of itself. While OEM maintenance guidelines certainly provide direction, ultimately, maintenance managers need to make judgment calls for all of the routine service tasks their assets will require.
Step 4: Start scheduling
With the prior steps completed, fleets can begin scheduling maintenance tasks. Leading up to and after rolling out any PM schedule, maintenance managers should make themselves available to technicians who might have questions about what is expected from them. As for what tools maintenance managers should use to draft their PM schedules, that depends on the resources available to them. Paper and spreadsheets rely on lots of manual input, but can work for smaller fleets.
Step 5: Analyze results and make refinements
After rolling out an initial PM schedule, maintenance managers should closely observe the health of their fleet in order to gauge its efficacy. For example, if breakdowns and issues reported in driver-vehicle inspection reports (DVIRs) occur with the same frequency post-PM schedule implementation, maintenance managers might want to shorten PM intervals. This constant refinement process enables maintenance teams to continually achieve better results.
Simplify scheduling with maintenance software
With the help of software, scheduling preventive maintenance is not only faster and easier, but also more consistent and comprehensive.
For example, with Fleetio, maintenance managers don't need to look up OEM-recommended maintenance intervals themselves. The latest guidelines are automatically populated within Fleetio, so users can easily schedule PM work in accordance with the most reliable guidance available.
And when it comes to setting intervals, Fleetio provides maintenance managers with numerous options. Fleets that prefer to follow a usage-based maintenance approach can easily have PM tasks recur whenever specified meter readings are reached (e.g. oil changes after every 5,000 miles). On the flip side, fleets can just as easily implement time-based PM intervals (e.g. wheel alignments after every year). This flexibility accommodates the service needs of virtually every fleet.
On top of that, Fleetio also ensures technicians are never surprised by upcoming service tasks via a series of automatic reminders. When specified intervals draw near, Fleetio gives technicians a heads-up via a "due soon" notification (regardless of whether they are accessing Fleetio via a computer, smartphone or tablet). Much like PM intervals, the thresholds for when these due soon messages are sent is user-configurable.


If you're searching for ways to streamline your preventive maintenance scheduling, look no further than Fleetio. Discover what our solutions can do for you by starting a free trial or requesting a demo today.
FAQs
What is included in a maintenance schedule?
As a baseline, maintenance schedules should include:
When a task should be completed by
Clear instructions explaining the task to be performed
The name of the technician to perform the task
Meter readings
Space for leaving additional notes
What are the four types of preventive maintenance?
While people sometimes refer to them with different labels, preventive maintenance can be divided into the following categories:
Usage-based maintenance - Usage-based maintenance centers around how much an asset is put to work. Whenever meter readings reach specified intervals, assets are brought in for inspections and service work.
Time-based maintenance - Calendar intervals determine when assets receive maintenance with this type of PM. Depending on the type of service work required, assets may be brought in annually, quarterly, monthly or even weekly.
Predictive maintenance - Predictive maintenance aims to reduce resources spent on unnecessary PM through the use of diagnostic sensors. Under this approach, assets are only brought in when diagnostic sensors detect abnormalities worth inspecting or servicing.
Prescriptive maintenance - This type of PM employs machine learning to anticipate when assets should receive service based on historical data. Commonly abbreviated as "RxM," this approach leverages software to analyze equipment degradation and balance maintenance effort against operational risk.
How do you draft a maintenance schedule?
You can use various methods to draft a maintenance schedule. Smaller fleets commonly opt to use paper documents and spreadsheets. Check out our preventive maintenance schedule template for an example of this approach. While these methods work well enough, they require significant manual effort to create and keep up-to-date. For that reason, many fleets prefer to use software to create their maintenance schedules. With software, fleets don't have to print anything out and the process of building a maintenance schedule involves far less copying and pasting.