Preventive maintenance schedules – every fleet has one, but what should they look like?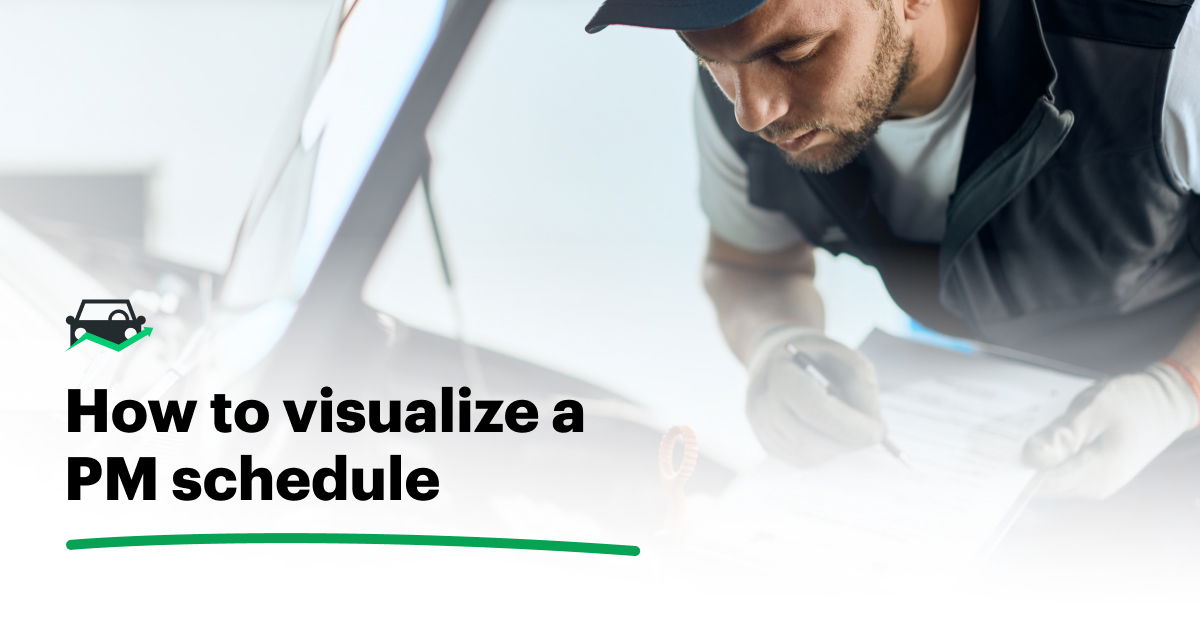 Preventive maintenance is one of the most important factors in the longevity of fleet assets, so it's a requirement to stay on top of it. That means having a system in place to keep track of preventive maintenance and everything it entails. But what should that system look like?
Let's take a look at what you should include in your preventive maintenance process and how you can visually represent it for regular use.
What should a preventive maintenance process include?
List of assets: You'll want to make a list of every asset you have that requires maintenance, including vehicles, equipment, and more.

Maintenance tasks: For each asset, you need to know the maintenance tasks it needs to have performed on a regular basis. For most vehicles, that will mean things like oil changes, tire rotation and balance, brakes replacement, battery checks, fluid checks, air filter replacements and more.

Frequency: Figure out how often those tasks need to be completed. This will look different from asset to asset, but OEM guidelines are a great starting place.

Documentation: Make sure you always have detailed notes of all maintenance tasks performed, with dates, work completed, and any issues or concerns that were recorded, and file them in a way that lets you access them easily for future reference and compliance purposes.

Prioritization: Determining some form of prioritization for tasks is important to managing maintenance workflows and downtime. Balance preventive maintenance alongside emergency repairs, and find a way to ensure that your most vital assets are put ahead of the queue.

Improvement Plan and Audit: Take a look at your preventive maintenance schedule to make sure it's still working for your organization, as well as find more ways to optimize the schedule and minimize downtime.
Once you've delineated your process, you need to find a way to tangibly represent it so you can stick to it and track it over time. Here are a few common ways to physically present a preventive maintenance schedule.
How to visualize a preventive maintenance process
Spreadsheet: Spreadsheets are a great way for fleet managers to get started with representing data, including preventive maintenance timelines. You can include columns for equipment, maintenance tasks, frequency, technician assignments, and completion dates – we even have a preventive maintenance schedule template that can help you get started.

Gantt chart: Gantt charts are a visual representation of project schedules that show tasks along a timeline. This can be a useful way to present a preventive maintenance schedule, particularly if there are multiple tasks involved.

Checklist: A preventive maintenance checklist can be a simple and effective way to visualize routine tasks that need to be completed on a regular basis. This can be represented on paper or digitally, depending on your preference, and can be utilized alongside other methods of visualization to detail the tasks that need to be completed within service.

Calendar: A digital, paper, or whiteboard calendar can help you schedule service tasks in a way that lets you see specific dates for service.

Maintenance scheduling software: Maintenance scheduling software like Fleetio can be a great way to represent all of your PM schedules and milestones and keep them updated in real-time. Fleet maintenance software can help you automate a lot of those tasks so that you can receive notifications when it's time for scheduled maintenance, as well as store work orders from the shop after the service is completed.
Your presentation method should vary based on the complexity of your maintenance schedule and the service needed, but it's important to choose a method that is clear, concise, and easy to understand so the schedule is followed properly.
---
Want to streamline your fleet preventive maintenance schedule? Start your free trial in Fleetio or request a demo today.